Settled in a Memory Care Facility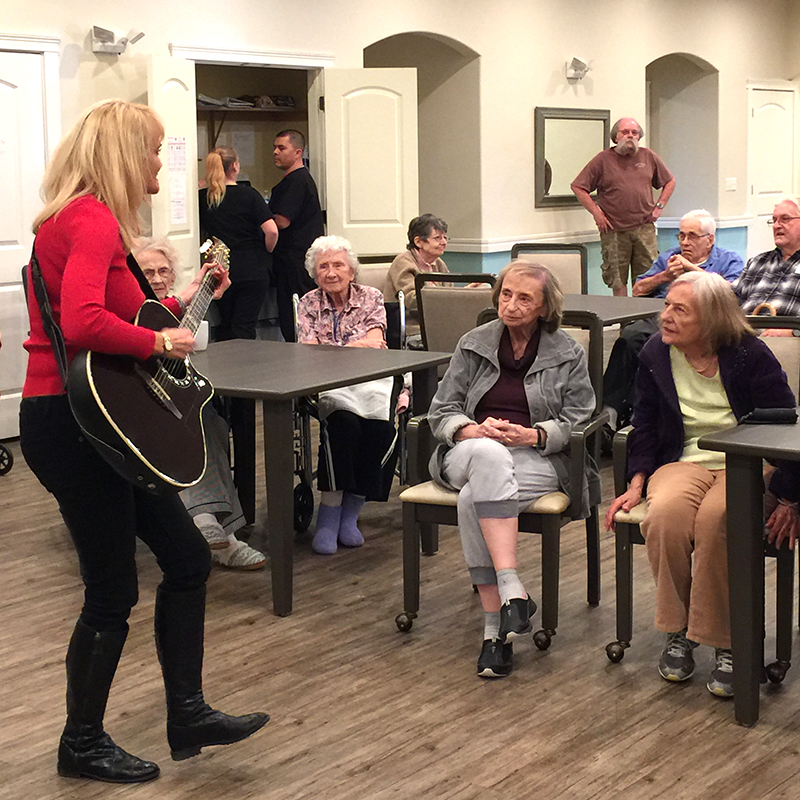 The other day my sister and I were helping a dear friend in California, Helen, to get settled in a memory care facility. Helen doesn't have any family to look out for her—no husband, siblings or children. She was confused and afraid and we were feeling stressed seeing her and how agitated she was about it. I told my sister I would bring my guitar and would get Helen to sing her favorite song (and one of mine).
"You are My Sunshine"
Sure enough, when we arrived she was very agitated about her life change and loss of freedom. We listened as she expressed her fears and confusion, then I grabbed my guitar and asked her to sing it with me. We began singing, and like something from a movie, all of the residents without prompting, gathered around and sang along. All of us together sang song after song, with those who knew the words singing along, while others stood up and clapped and danced and even the care givers were singing and dancing. My sister had big alligator tears in her eyes and that gave all of us the excuse to cry together.
The music transformed Helen. After singing and dancing for an hour the fear and anger and frustration for her situation was nowhere to be found. In fact, she was laughing and singing as she walked us to the door. The caregivers thanked us over and over, they don't have any kind of program like Heart & Soul to bring music in and engage the people like this. They raved about how wonderful it was to have live music. And the residents kept asking for one more song as we were walking out.
After we walked out my sister grabbed me and hugged me so tight while tears rolled down her cheeks and mine she thanked me for sharing my music and said,
"I understand now why you do this for Heart & Soul. I get it. It's magical."
Heart & Soul is a cause I totally support and believe in and I hope you will too. Heart & Soul's goal is a live musical performance every month for each care community along the Wasatch Front and Wasatch Back.
There are people in every care community who find themselves in an unfamiliar place that is not their home, and not of their choosing. Your donation can help ease their fear, anger and frustration by helping to bring some magic... healing music to neighbors just like Helen.
volunteer, give, reminder, music, donate, end of year gift