Tribute to Mike Akin (1947-2011)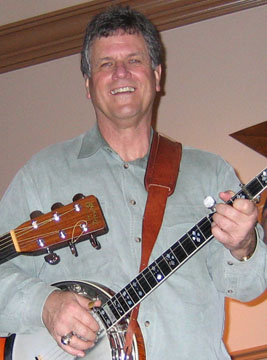 It is with great sorrow we note the passing of Mike Akin, aka "Mr. Banjo." Mike was a volunteer performer and contributor since Heart & Soul's inception in 1994. He brought love you can hear to seniors, veterans, children with disabilities, prisoners at the Utah State Correctional facility, everywhere he played. Mike was lead singer, banjo player and dobro player for Ridin' the Fault Line. Mike touched many people's lives and was always there when someone needed his help. He wrote the following article for Heart & Soul's newsletter in spring of 1998. It still rings true today.
Love You Can Hear
By Mike Akin
I started playing rest homes back in the '70's. An inspiring college teacher, Reed Bradford, touched me and taught me the importance of giving.
At the time, I was in the unforgettable Elkwater Flea and Tick Band, a "way fun" jug band that played around BYU. Well, Professor Bradford had me searching for a way to make a difference in life. One day it hit me: The Jug Band was always looking for an excuse to play anyway. Why not take our music (and our dates) to rest homes? We could do our music, and do some good at the same time.
We performed at rest homes all through college. It was great! One time after a show at the American Fork Training School (for people with developmental disabilities), I was talking with a friend who volunteered there. He said, "You know, it's funny. When I first came here, I thought 'They really need me.' But I learned that I really need them."
I learned that same lesson. We don't exist for ourselves. We're happiest when we try to make someone else happy. Heart & Soul teaches that our lives are more meaningful when we share. If service is love made visible, them music is love you can hear. Heart & Soul is bringing love you can hear to those who need it most, blessing everybody, giver and receiver.
Emmy Lou Harris once lamented that "music has gone out of the living room." Someone else said that music is too important to leave to professionals. That's the beauty of Heart & Soul. It takes nonprofessional players like me into rest home living rooms with love you can hear.