Music Stroll is Coming Soon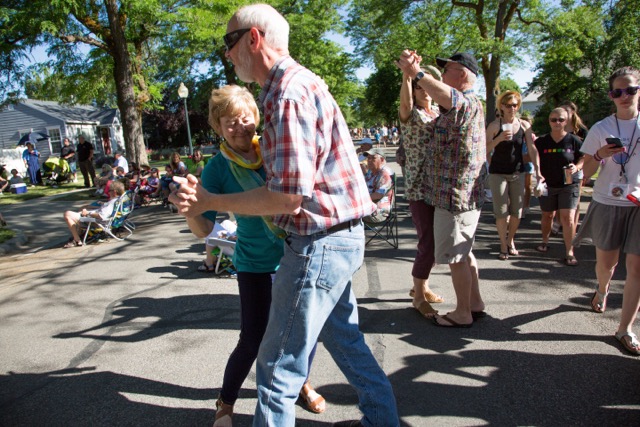 Stroll or dance with your sugar at Heart & Soul Music Stroll on Saturday, June 11, in Sugar House 1530 E 2700 S. 3 to 8 PM.
40 plus bands will be playing on lawns and porches along Filmore and Glenmare Streets. See you then!
This year's performers include:
ANDREW WISCOMBE - One Man Band
ANN KELLY Folk & Originals
BUZZARD WHISKEY - Folk and Pop Originals & Covers
CABANA BAND - Utah's Island Band!
CANYONS - Folk Rock Band
CATE & PAUL - Folk Music
CLEFTOMANIACS - Folksy Favorites & Originals
COUNTRY BLUE FOLK - Folk - Country - Bluegrass Favorites
FALL RIVER RAMBLERS - Origianl Bluegrass and Americana
FERAL CATS - Back On The Streets Again
GOOD WILL BAND - Just like Fed Ex - they deliver!
HAMILTON CANTONWINE CLARK BAND - Organic cage-free Folk, Roots Blues & Rock n' Roll"
DR. JUG WINE - Folk and Country
HOLLYWOOD TOWN HALL - Alternative Roots Band
JABOOM - Classic Rock and Roll
JACKSON JILLS - Country Folk and Swing
JARRETT BURNS - Sonic Revolution
JOHNSON CREEK BAND Western Folk & Traditional Favorites
K-TONES - All Fun - No Treble
KATE MACLEOD - Original and Traditional
KINDERMUSIK - Kids and Family
KRAIG BRINKERHOFF - Country & Folk
MINDY DILLARD - Award-Winning Musical Alchemist
MELISSA BURRIDGE DE ENCISO Broadway Revue
METRO GNOMES Light Jazz Standards
NEW FIDDLERS - Oldies-but-Goodies
ONA WELCH - Folksy Favorites & Originals
OPHIR CREEK - Family-Friendly High-Energy Folkgrass
PAMELA LIND & ALMOST COUNTRY - Pop, Jazz & Favorites
PAT & ROY - Country - Rock & R&B
POCKIT Alternative Soul
ROYAL HERITAGE - World Music
SAVORY - Celtic Tunes
SMITH & WILEY BLUES DUO - Blues Harp, Guitar & Vocals
SMITH BROS. DIRT BAND - Blue-Jug Country Pickin
SOREN CHARLES GREEN - Classical Guitarist
STACEY & MAX - Have Ukuleles Will Travel
STEVE BASSETT - Zen-Jam Folk Singer Songwriter
STRATFORD STREET BIG BAND - Big Band Dance Music
STRING CHIX - Acoustic Folk Favorites
THE GENE POOL - Diverse Acoustic
THE SECOND STORY BAND - Old Time and More
THE SMOKIN' BLUES BAND - Blues and More
THE SUSAN BUSH BAND Original Folk & Blues
musicstroll, free, salt lake city, sugar house, music, lineup