Mundi Ambassadors Give Back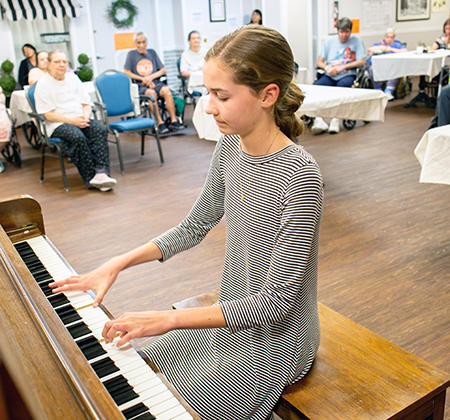 While Utah's physical landscape brings to mind red-rock vistas and snowy mountains, its cultural landscape is equally vibrant. Within it is a music scene filled with advocates, musicians, and organizations that focus on all stages of life and work to make music accessible to everyone. While Heart & Soul focuses on serving isolated community members, our friends at The Mundi Project work to enrich lives through open access to pianos, music education, and innovative performance opportunities. Though both organizations serve seemingly disparate branches of the community, the two complement each other and work in conjunction to help create a rich and vibrant musical community.
One of The Mundi Project's main programs is its work with the Mundi Ambassadors. These young students take on multiple roles, mentoring low-income beginner piano students, performing at outreach events, and helping to share their intrinsic love of music with audiences across the state. Mundi Ambassadors are also Heart & Soul musicians, who go to care communities multiple times a year to play performances that are enriching for all involved. Music can serve as the bridge to connect different people, different groups, different generations. Hearing a tune from long ago, played by a youth who was your age when it first tickled your ears, can help one unlock past memories and reconnect with the present. Music is a universal language, and when it speaks between the generations, it cultivates an understanding and empathy that might otherwise be hollow.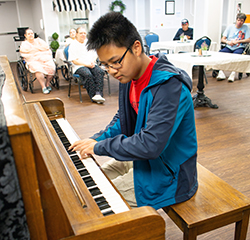 In addition to the shows that Mundi puts on, they also provide pianos in public spaces and for people in need. These instruments help bring the thrill of creating music to children all over Utah, as generously donated pianos are placed in individual homes or community gathering places. People of all ages can hone their skills in public schools, medical centers, and other nonprofit organizations. Some of these pianos reside inside the care communities that their Ambassadors visit with Heart & Soul, helping to weave together the musical tapestry that they are part of.
The work that The Mundi Project and Heart & Soul does runs through the state's veins, taking musical expression—bold, quiet, introspective, and lively—to all of its residents. Through these, and other, nonprofit organizations, the arts become an accessible part of daily life. By creating partnerships and building bridges between different organizations, different community partners, and different individuals, Utah's cultural landscape is thriving.
—by Sahara Hayes
---
Do you believe in the healing power of music?
Help bring music and performing arts to isolated neighbors!
We are looking for more performers, show hosts, event and office volunteers. Visit www.heartsoul.org to learn more or email us info@heartsoul.org