K-Tones are All Fun No Treble
K-Tones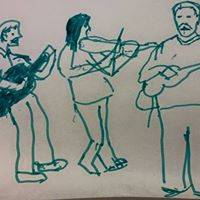 The K-Tones motto is All Fun, No Treble! and that's just what you get.
Upbeat, toe-tapping music with a cast of characters, musicians, to delight and entertain.
You will hear a combination of different kinds of music, country, bluegrass, blues, and rock & roll, with acoustic style, all for your listening pleasure. The K-Tones always keep their audience wondering, "What's Next?"
This portrait of the band was done by a resident at Hillside Rehabilitation - where they performed with Heart & Soul last month. They are loved.
We all get to hear them play on June 13th at 5 p.m. at Heart & Soul Music Stroll - a FREE music festival featuring 34 bands.