Join the Music Stroll Volunteer Team!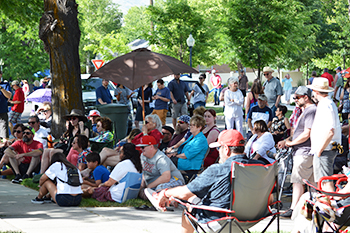 WE'RE BACK! June 13, 2020 3–8pm
For the ninth year, Heart & Soul, along with the neighbors surrounding Imperial Park, will present our incredible, one-day music festival.
40 musical acts will perform on 13 porches, driveways and lawns—or on our main stage—throughout this Sugar House neighborhood (along with an ocean of food trucks). Join us as Heart & Soul celebrates 26 years of bringing the healing power of music to isolated neighbors along the Wasatch Front.
The joy happens Saturday, June 13, along Atkin, Filmore and Glenmare Streets (1530 E 2700 South) in Sugar House, as thousands of people walk and bike from lawn to lawn to relax and enjoy the food and music. It's just another way we build community—and we hope you'll be part of OUR community!
Join the Music Stroll Volunteer Team!
Heart & Soul produces private performances at care facilities, but once a year we go public! Get in on the fun—help behind the scenes or man the front gate and be our ambassador!
We're looking for volunteers to help put on the eighth annual Heart & Soul Music Stroll Saturday, June 8th in the Highland Park Neighborhood of Sugarhouse.
Music Stroll Volunteer shifts are two to three hours. Enjoy your shift, then visit the musical acts. You'll have access to our "green room," which includes free food & drinks plus some great Heart & Soul SWAG. It makes for a memorable day with phenomenal people!
If someone you know might be interested, please send along this message. This could be your bookclub, sports team, church group, bandmates and neighbors.
SIGN UP HERE and choose your best opportunity to volunteer.
Or contact our Amazing Ainsley at This email address is being protected from spambots. You need JavaScript enabled to view it. or 801-467-5799.