"Dear Friends", A Letter From Jim Hayes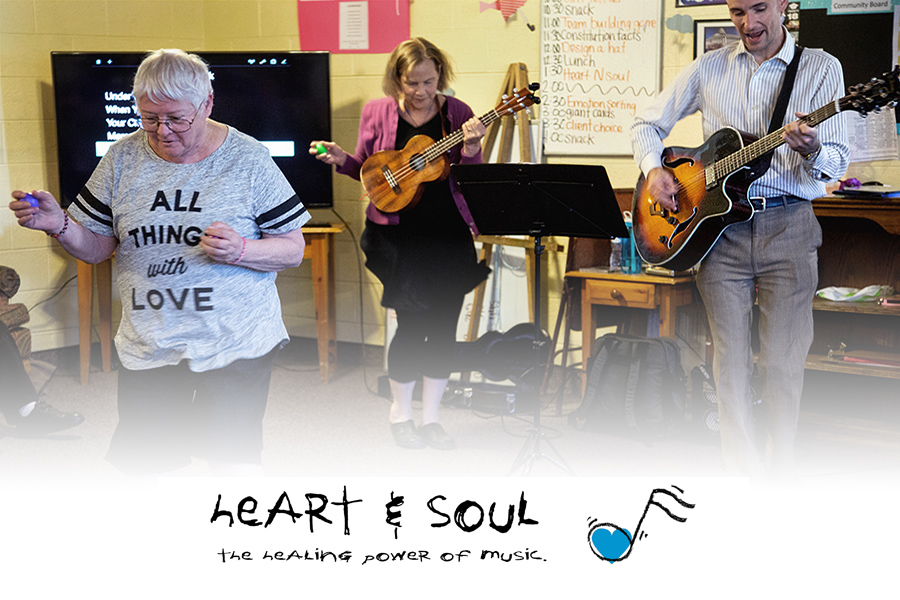 Dear friends of Heart & Soul,
There I was, having eggs Benedict with the main gears of Heart & Soul, Janna and Ainsley. Usually, an invitation means great company and a request for the next project that involves graphic design. And I was right—I would ultimately pay for those crispy hash browns.
But this time, in addition to wanting an illustration for Thanksgiving, they also asked that I write the year-end letter, where I might casually mention that we put on over a thousand shows this year, enumerate the incredible amount of joy squeezed out of every dollar, the healing and serving of those in great need—all the stuff you already know—but just not as eloquently as the previous letter-writers. Well, I thought, let another board member do it, I already have to draw a turkey doing the duck walk—until they showed me the Golden Ticket: pages of appreciation from the citizens of one of our venues. I realized that they could write the letter for me.
Let's see what they have to say…
"Thank you for all the musical groups that come to Sarah Daft Home. I love it and they have changed my life. Thank you so much for enriching our lives."
Suzy
"The music and songs lift my spirits and keep me going during my hard time."
Kathy
"We sure enjoy the entertainment that comes weekly. They brighten our days. Heart & Soul, along with all the others, are fantastic."
Terry
"It is with a grateful heart that I remember the pleasure and enjoyment that Heart & Soul has brought to me. We always look forward to them with anticipation and eagerness."
Pat
"Thank you for the entertainment and singing ever so much. The entertainers are a welcome sight in all our lives. Thank you for being there."
Harold
"As a non-profit, we depend on the community for donations and any help they can give us. We really appreciate Heart & Soul helping us give our residents a good quality of life! We get a taste of everything. Thank you for all you do!"
Susan, activities director
Me again: As one lucky enough to be a Heart & Soul performer, I'm required to list the big donors at every gig. But as the guy who cobbles together the newsletter and inserts the names of every blessed individual who gives a few bucks, I'm compelled to tell my audience that countless thanks go to the myriad people who give to Heart & Soul. I hope you, too, can help us continue to spread joy to the people who live at the Sarah Daft Home, and all their peers in "hard times." Now, back to drawing that guitar-toting turkey so it dances like Chuck Berry.
Harmonious wishes,
Jim Hayes
PS: Who, us, persuade our board members with food? For a cause like Heart & Soul, you bet! Thanks for all your support for healing music!
Janna and Ainsley