Cowboy's Song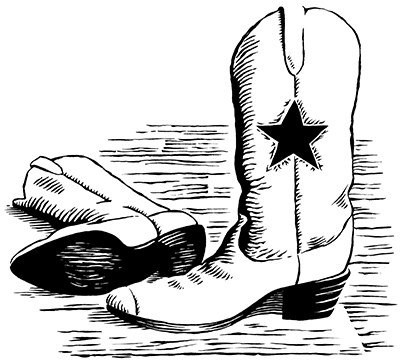 It is Tuesday, August 23, 2016, and Ken and Mike just left City Creek Post Acute Care after an hour and 45 minutes. These two bigger-than-life guys arrived 30 minutes early, armed with big smiles, two guitars, a banjo and a vast repertoire of songs. But, most importantly, big, soft hearts.
As I went room to room to gather residents for the performance, there was one gentleman that I really wanted to attend the performance. He had been put on hospice just a few weeks earlier. A very smart man who spent his whole life learning and thinking, he stole my heart for this reason: when he used to smoke, he would roll out of the building in his wheelchair, wearing his hospital gown and his cowboy boots—cowboy boots that had been used for real work in Wyoming.
In my head, I called this guy Cowboy. Too weak to attend, Cowboy sadly declined, and looked at his own guitar sitting on the chair near his bed. My heart sank. But if I couldn't take Cowboy to the performance, perhaps the performance could come to Cowboy. I explained the situation to Ken and Mike, and Mike said, "That's a word I hate to hear: hospice." I took them to Cowboy's room and introduced them. I thought they would play a song or two for him. But Cowboy scooted weakly to the side of the bed and reached for his guitar. The guitar looked huge against his diminished body. Cowboy got a little help tuning his guitar and told Ken and Mike that he would like to play "Peace in the Valley." All three guitar players started and Cowboy sang carefully, "Oh, well, I'm tired and so weary but I must go along / Till my Lord comes and calls me, calls me away."
For a moment, you could see the man's soul full of sadness, love and longing—and not his ravaged, weak body. He finished the song with Ken and Mike and laid his guitar aside, too exhausted to play more. Ken and Mike played two more songs for Cowboy, two big guys singing to a small guy. A small guy with a soul as big as both Ken and Mike, that came out in that one song.
Heart & Soul is in the business of miracles. Any performance that originates from Heart & Soul always has a miracle, often invisible to the performers. They can't know that a mental health patient who hasn't said more than 10 words in the past month, bursts with energy and smiles as he shakes his egg shaker and sings the words to almost every song. Performers may not notice the woman, bent in her chair, holding her head up briefly—an effort that she has not felt worth making for some time. They may not realize that the guy in the power wheelchair frustrated by the recent news that his family is selling his house, softens and forgets his unhappy situation. The man with Parkinson's whose body continues to defy him who finds a moment of peace as he mouths the words to a song.
The people in front of these performers are facing what may very well be the most difficult time in their lives: loss of independence, loss of identity, loss of privacy, choice, and community. But Heart & Soul provides respite from these losses and helps build community among these disparate people who are thrown together and expected to live and be happy. Their shared experience through music creates community. Reminiscing about songs and finding out that others like the music they like goes a long way to providing a life preserver—to providing an opportunity to connect with others, to make a friend at this very difficult time in a life.
Without Heart & Soul and their ability to partially subsidize performances, our residents would not be able to experience quality live music as often, with as much diversity, or with such sensitivity. In some ways, Heart & Soul is a little like Cowboy: they are small but they have a big soul.
The author, Karleen Broadwater, is director of recreation therapy at City Creek Post Acute Care.