Campfire Songs with the Canyon Rim Band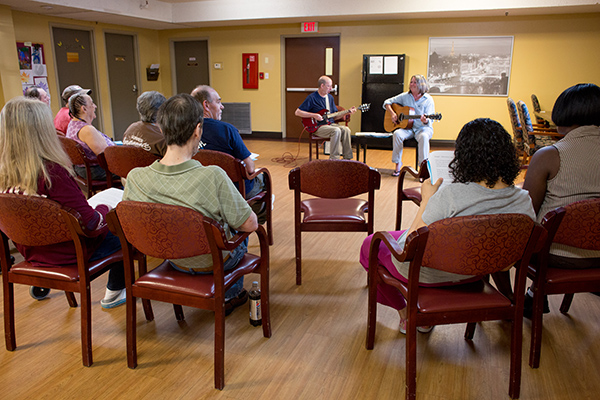 What a riot. Our last performance at Canyon Rim Care Center through Heart & Soul was so full of joy and energy. All I could do beyond our collective singing was do nothing but smile.
That was the mood of staff and residents too, as we busted out songs - whether in the songbooks or not - at full happy volume. With Herc Ottenheimer on lead guitar, our songs rose from collective choruses to stunning leads, which would normally have been accompanied by egg shakers.
On this day, my shakers were forgotten except for one. On the last song, "Ring Of Fire," I located one of those eggs in the group, and gave it to a resident who smiled so brightly while maintaining her excellent rhythm.
We call ourselves "The Canyon Rim Band," and we could not exist without the collective devotion towards healing people through music that is the mantra for Heart & Soul. My position as song leader in the "Sings" program involves including residents in active participation as music-makers. We have a blast - whether this occurs at Canyon Rim or elsewhere. I pass out songbooks, but the music may also be accessed through media projections.
Our groups are something that we all eagerly anticipate, every two weeks or so. There is a strong sense that we are all in this together in a loving and special environment, which is why I've created the songbooks to be labeled "Campfire Styles." Heart & Soul has given performers and residents a chance to pull up a piece of the proverbial porch or campfire, and sit around for some singing...together. Away from the cares. We love that
music, healing, cayonrim, performance