Banner Year 850 Shows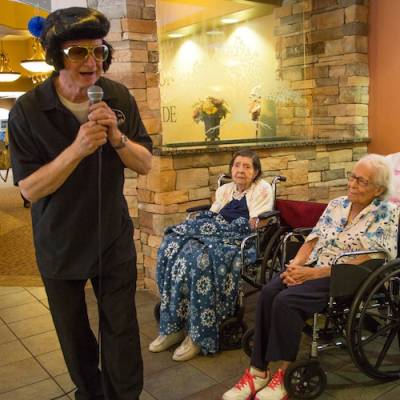 With your continued support, 300 performing artists will bring over 850 live performances to isolated neighbors in 147 different care communities along the Wasatch Front and Wasatch Back. These shows include jazz, classical, rock 'n roll, country music, 50's pop, big band swing, Celtic, bluegrass and more, and reach over 22,000 individuals who find it difficult, if not impossible, to attend a concert on their own.
Through Heart & Soul's Sings Program, residents in care communities get to sing their favorite songs, backed up by a live Heart & Soul band. Residents choose songs to sing from their past, songs that mean the most to them. Some of my favorites are Carlos singing I Wish You Love, John and Jessma singing Lean On Me, and Sondra singing Amazing Grace. Participatory music decreases feelings of isolation and loneliness, provides comfort, motivation, well-being, and a sense of belonging. And it's just plain fun!
The need for music in shelters, nursing homes, hospitals and other dependent-care programs has never been greater. Heart & Soul expanded its reach to include Salt Lake, Utah, Davis, Weber, Summit and Wasatch counties, and has a waiting list of artists wanting to serve, and a list of care communities with people who need our services. Help us be part of the solution – every donation makes a difference. Thank You!
-Janna Lauer
Director Report