Alive Inside Film Uses Same Principals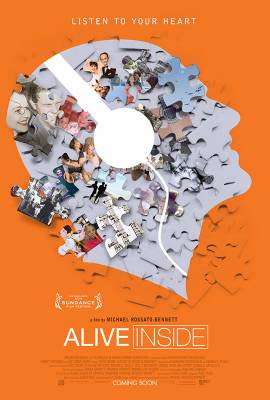 Sundance Film Festival calls Alive Inside "a joyous cinematic exploration of music's capacity to reawaken our souls and uncover the deepest parts of our humanity. Filmmaker Michael Rossato-Bennett chronicles the astonishing experience of individuals around the country who have been revitalized through the simple experience of listening to music."
Available to stream on Netflix, this is a must see film for Heart & Soul friends and performers. Alive Inside shows what music can do for people with memory loss. Heart & Soul utilizes these same principles with live music and familiar songs to revitalize the lives of all residents in care communities. Whether residents are in memory care, rehabilitation, or assisted living, music is used to reawaken their lives, create community, enhance memory, and experience joy.
If you have a loved one with memory loss, this is a great opportunity.
You are invited to stay after these presentations to hear how people in Salt Lake City are bringing Music and Memory to our community.
Thanks to Jewish Family Services for spearheading Music and Memory in Utah. To learn how you can get involved with Music and Memory visit: Aging.Utah.edu.