A Letter from Janna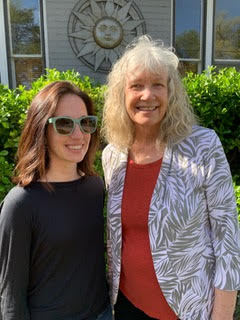 Dear friends, family, board members, fellow musicians and our phenomenal funders, thank you all! It has been my great honor to lead Heart & Soul these past twenty-six years.
It is my pleasure to announce Ainsley-Marie McLaughlin as Heart & Soul's new Executive Director. Ainsley has been with Heart & Soul for over a decade. She knows Heart & Soul inside out and has a deep love for our mission of bringing healing music to isolated neighbors. We could not be in better hands.
I'd also like to welcome Talia Ricci as our new Program Coordinator. Talia is currently working on her masters in non-profit management and we are so fortunate to have her with us. She will oversee our shows, and will help with marketing and development.
I had planned to retire last month, but then COVID-19 took over our world. I have taken a supportive role for the unforeseeable future and will step down when we are out of troubled waters. Though I have great plans to travel the world and spend time with my grandchildren, I will always volunteer for Heart & Soul.
Because of all of you, Heart & Soul is a national leader in bringing the healing power of music to neighbors living in care communities.
We've grown at a steady, sustainable pace, bringing over 16,000 live musical programs to isolated Utahns in our twenty-six years of service. Covid-19 has slowed us up a bit, but with Singing Telegrams, Courtyard Concerts and a return to normal at some point in the future you have our commitment to continue bringing hope, healing, music and joy to isolated neighbors.
Thank you for joining me in support of Ainsley and Talia and over 300 generous, talented musicians in this incredible mission of love.
With Heart & Soul,

Janna Lauer
Director Emeritus