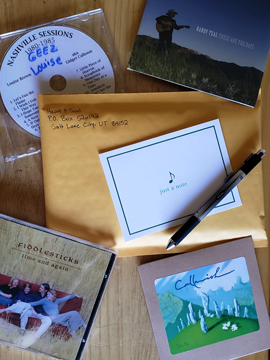 Heart & Soul would not be able to aid residents through this crisis without the generous support of people like you. Once restrictions within the facilities we visit have been officially lifted, we intend to go back in and play music just like before. With your continued support, we can bring the music back into communities of isolated individuals, and bring joy, laughter, and love with us.
Please consider a a donation to Heart & Soul by going here or mailing a donation to PO BOX 526142, SLC UT 84152.
CDs & DVDs
Heart & Soul performers,
Our audiences love your music! If you have CDs or online music to share please send an email to This email address is being protected from spambots. You need JavaScript enabled to view it. and we'll get right back to you.
Facebook Friends, Want to hear the great music Heart & Soul performers are cooking up during this COVID-19 crisis? Visit us on Facebook at Heart & Soul for a real treat!
Send a Note of Love
Got kids at home? Getting a bit stir crazy? Here's a great activity for the whole family!
Reach out to neighbors isolated in care communities with postcards or homemade greeting cards along with some friendly words of encouragement. Email us at This email address is being protected from spambots. You need JavaScript enabled to view it., and we will provide you with contact information for a care community close to your home. Our elderly neighbors who are confined to their rooms and buildings will appreciate you thinking of them!
Give
These are difficult times that bring such concern. However, with your help, we can bring Heart & Soul to isolated neighbors from Ogden to Provo to Heber, and remind them that they are loved.
Thanks for all your support of Heart & Soul. We are optimistic in what the future holds for our performers and the care communities we serve.
Wishing you good health,
Ainsley, Talia & Janna