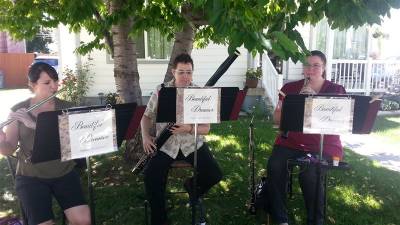 Beautiful Dreamer, a Heart & Soul performing group, was featured in Ogden's Standard Examiner. Link to the article is below.
"Beautiful Dreamer" plays Popular American Parlor Music instrumentals: Music from about 1830 to 1930, including Folk songs and Spirituals, Patriotic tunes from the Civil War and WW I eras, and Tin Pan Alley and Broadway tunes.
"Beautiful Dreamer" is: Tia Jaynes, flute and piccolo; Robin Vorkink, oboe and English horn; and Cheryl Ann Blackley, bassoon.
Cheryl Blackley has performed over 400 Heart & Soul performances. Thank you for your dedication to bringing music and performing arts to isolated people along the Wasatch Front.
Read the article here Ogden's Standard Examiner
Beautiful Dreamer has a performance at 7:30pm on Nov. 13th at Alpine Church, 254 W. 2675 North in Layton. Admission is Free and open to the public.